Guesthouse – Pension Strobl in Mondsee – Katrin & Thomas Strobl
Welcome to Pension Strobl in Mondsee. Our well-managed house is situated in a beautiful, quiet location with a view to the Mondsee lake. We offer: a large terrace, sunbathing area, table tennis, bicycle parking, lounge, breakfast buffet, large parking lot. 10 minutes walk to the town centre and the lake. Comfort room with shower, toilet, balcony, radio as well as cable TV, minibar and telephone. Cashless payment transactions possible!
Cosiness and tranquillity meet comfort – no contradictions at the Pension am Mondsee!
The Pension am Mondsee of the Strobl family exudes a cosy flair and invites you to feel relax. Although built in 1974, the house reflects high comfort thanks to extensive renovations. Bathrooms, balconies, windows and facades were completely renovated in 2017.
Today the rooms are equipped with bright bathrooms with shower and toilet, radio, television, safe, fridge and minibar, hair dryer and free Wi-Fi access.
All rooms are non-smoking rooms – smokers have their own area on the balcony or terrace.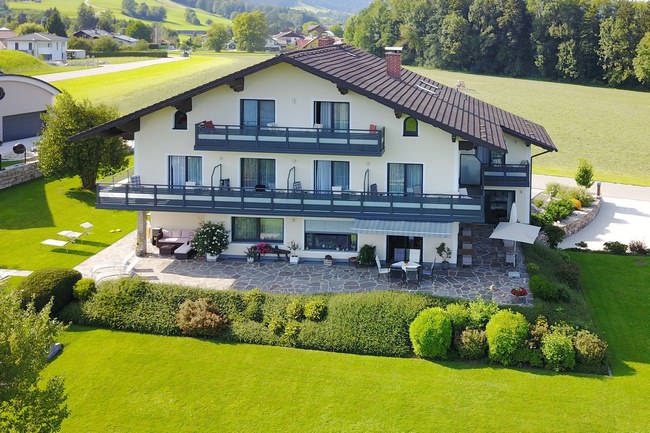 Mountains and Lake – Beautiful, what more do you want!
Enjoy your holiday from the very first minute. The magnificent view over the Mondsee and the surrounding mountains will make you quickly forget stress and everyday life.
Whether during breakfast at sunrise in the open air on the large terrace, at the rich and lovingly prepared breakfast buffet, during the afternoon chilling in the large, well-tended garden or exploring the lake and the resort by bike or on foot – our quiet location, the clean, well-kept and freshly renovated house with garden and sunbathing lawn and the good facilities of the house make your holiday something special.
The Strobl family – our guesthouse in Mondsee – this is what a vacation should look like!
A holiday in the Pension am Mondsee means besides a house with a comfortable atmosphere, also a welcome by the Strobl family. Gertrude and Anton Strobl have built the Mondsee guest house in 1974. Till date, both are still operating, and are good souls of the house and the concern of the guests endeavors. Gertrude Strobl takes care of the lovingly made breakfast and Anton Strobl cherishes and cares for the garden.
In 2016 the guest house was taken over by the next generation of the Strobl family – the son Thomas, daughter-in-law Katrin and granddaughter Theresa. Since then Thomas Strobl leads the guesthouse, Katrin takes care of the rooms, and the bureaucratic and especially the daughter Theresa born in May 2015.